Quick Links
» February Menu (pdf)
» Employment Opportunities
» Directions
» Staff Directory
» Facility Usage Policy
Staff Links
» Off Site Teaching Assistant Time Off Request
» Professional Development Request Form
» 10 Month Staff Time Off Request
» 12 Month Staff Time Off Request
» Staff Email login
» Employee Payroll Portal
» GENESIS Login
Save the Date! Second Annual Youth Fishing Challenge
June 10, 2017
For more details visit: http://www.state.nj.us/dep/fgw/hofnodnj.htm
Check out our new Eco Programs!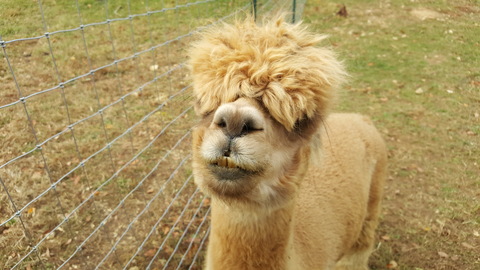 Meet Cynsation - The Alpaca of the Month. For More About Him and His "Buds" Visit his Facebook Page at
http://www.facebook.com/TheCampusHX/

Where Art and the Environment Intersect!
Hunterdon Art Museum and Hunterdon County ESC are Teaming up to offer a Variety of Winter and Spring Classes and Workshops at our Hoffman's Crossing Campus. Check Back For Dates and Times. For more information, click on
HCESC and Hunterdon Art Museum Teaming up.
Meet our Resident Donkeys - Mike & Babe as Well as Their New Alpaca "Roomates" - Cynsation, Woody, Black Thunder, Moon Rocket, High Seas & Star.
---
News & Announcements
Upcoming Events
Wed Mar 8
» Ground Water Awareness Day and Hunterdon County Well-testing Program w/Mara Tippett, Raritan Headwaters Association-Great Room
Sun Mar 12
» 10:30-3:30 (w/break for lunch) Hunterdon Art Museum Parent & Child Program-Create a Woodland Creatures Cottage. REGISTER THROUGH HUNTERDON ART MUSEUM. HCESC Hoffmans Crossing Campus is the location for this program. http://hunterdonartmuseum.org/portfolio-items/build-woodland-creature-cottage-workshop-ages-8-adult/
Sat Mar 18
» 1:00-4:00 PM-Hunterdon County Rain Barrel and Water conservation Workshop. $40.00 PRE-REGISTRATION REQUIRED. Great Room and Multi-Purpose Bldg. Register on-line https://events.hunterdonesc.org or wyork@hunterdonesc.org
Sun Mar 19
» Hunterdon County Rain Barrel and Water Conservation Workshop 1:00-4:00 PRE-REGISTRATION REQUIRED-Great room and Multi purpose building
Wed Mar 22
» UN World Water Day FilmFest and Forum (Free Registration and admission ticket donation appreciated) Register: wyork@hunteronesc.org
Sat Mar 25
» Hunterdon County World Water Monitoring Day-Great room and Pond Pavillion 11:00-3:00 PM
Sat Apr 22
» Ken Lockwood Gorge Stream Clean-up w/RHA-Great room